Welcome to the website of the North Central Lieutenancy!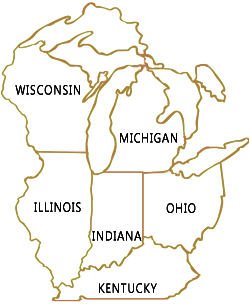 Welcome to the website of the North Central USA Lieutenancy of the Equestrian Order of the Holy Sepulchre of Jerusalem. The geographical area covered by the North Central Lieutenancy is shown in the image to the right — it includes the States of Kentucky, Illinois, Indiana, Michigan, Ohio, and Wisconsin. If you are looking for information about the Order's activities elsewhere in the United States, links to a map showing the territories covered by and to the websites of other US Lieutenancies can be found on the dropdown 'Contacts & Links' menu above, and general information about the Order can be found on www.holysepulchre.net.
CANCELLATION OF 2020 INVESTITURE
After careful consideration the North Central Lieutenancy has made the decision to cancel the 2020 Investiture due to continuing issues relative to the global pandemic. We will defer the event to next year.
We believe that convening a large group gathering such as ours in the next several months with the necessity of complying with all applicable health restrictions and social distancing rules will still be problematic, especially in light of a possible reappearance of the virus this fall. We have made the decision to cancel the 2020 Investiture in consideration of the health and safety of our members, the general age group of those most likely to attend the investiture, and our wish to allay any apprehension or anxiety on the part of those members attending the event.
Therefore, the next Investiture of the North Central Lieutenancy will be held in Cincinnati, Ohio & Covington, Kentucky on September 24-27, 2021.
An email announcing the cancellation of the 2020 Investiture has been sent to all active members. If you have any questions concerning the cancellation please contact H.E. Max Douglas Brown, Lieutenant, North Central Lieutenancy by email (Dr.Tort@comcast.net) or telephone (708-420-6886).

Other Notices

Please take some time to explore the site, and let the Webmaster know about any links which take you to an error page or to somewhere other than you expect, any factual, grammatical, or spelling errors you spot on the site, and/or any other problems you may have browsing it.
Particularly if you are a Member of the Order, please also let the Webmaster have any suggestions for further changes in the contents, appearance or structure of the site which you think would make it more attractive and/or more useful to you or to the browsing public.